Tip Of The Week:
Make it easy for yourself to play your instrument!
Earlier Tips: Tip of the week collection
'The major problem in becoming a good artist/musician is not about being talented or not, but about the way you work, the way you practice and above all the way you think about yourself.'
Michael Gustorff - alongside his career as musician and teacher - has been working as a mental trainer and coach at the ArtEZ Conservatory Arnhem, The Netherlands (since 1990…) and the 'Hochschule für Musik und Tanz' Cologne, Germany (1992-2016).

In 2004 he released his first book 'Practising Without Problems - Mental Training For (Jazz) Musicians' (2nd edition published in 2006) followed by 'Creativity & Everyday Life - A Mental Guide Not Only For Artists & Musicians' in 2010.
Michael has taught mental training workshops at music & art academies all over the world (Amsterdam, Antwerp, Barcelona, Berlin, Cologne, Dresden, Enschede, Essen, Freiburg, Gent, Hannover, Leipzig, Maastricht, Riga, Rotterdam, Seoul, Utrecht, Vienna, Zwolle).

Workshop 1
'Practicing Without Problems - How To Improve Your Practicing'
Content: Mental preparation - Dealing with information effectively - Getting started - Time management - Practice plans – Practicing and not getting better - Practicing technique - Practicing jazz & improvisation - How to deal with your teacher/student - On stage...
Format:
Standard workshop length: 3 hours
Other formats can be discussed
This workshop is available for: jazz & pop students only, all kinds of music & art students, music-school teachers and amateurs
Workshop 2
'The Mental Side of Your Career - How To Organize a Creative Life'
Content: Combining artistic growth and everyday life - Energy and focus - What does it mean to be(come) a professional - Time management - The I-Company - Image - Internal teachers -External teachers - Balance...
Format:
Standard workshop length: 3 hours
Other formats can be discussed
This workshop is available for: jazz & pop students, all kinds of music & art students, amateurs
For further information, please contact me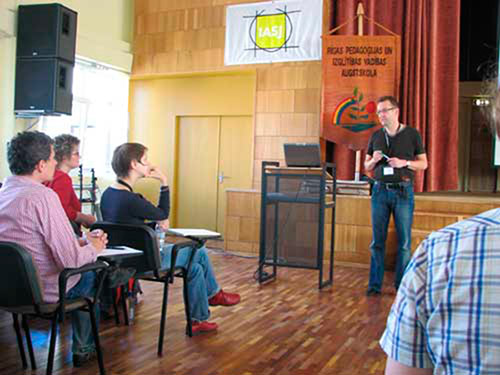 Mental Training at the IASJ in Riga Latvia
Individual coaching
Many musicians are suffering from not being able to use their full musical potential when they play.
Very often it's because of a 'not helping' mindset. Through easy to assimilate exercises you can change a mindset that blocks your possibilities into a more open way of dealing with yourself and your playing. Usually two or three coaching sessions are sufficient.
For information about individual coaching, feel free to contact me
Workshops and coaching can be held in English, German or Dutch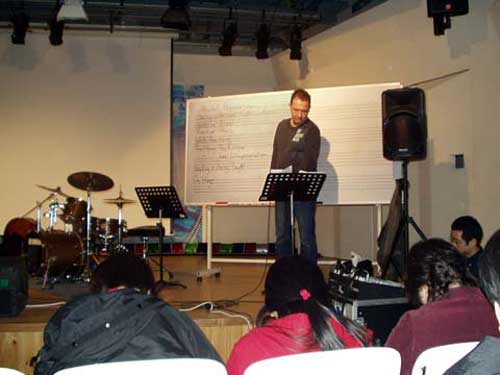 Mental Training in Seoul, South Korea
Comments
Peter Weniger, Artistic Director JIB - Jazz Institute Berlin, Germany
I got a lot of positive feedback from the students. Let's make it a tradition. I will invite you again.
Maarten Weyler, Head Conservatory Gent, Belgium
I had a very good feeling during the workshop. I'm happy that I invited you.
Bernhard Hofmann, Head Jazz- und Rockschule Freiburg, Germany
Your workshop was great. I'm familiar with all the problems that you discussed with the students. You are very good in dealing with young people.
Andy Herrman, piano player/teacher, Switzerland
Our students were very enthusiastic about the lessons. Many of them said that they immediately started to work with the information you gave them.
Bodhi Sikora, teacher Amsterdam Conservatory, The Netherlands
.... your personal and warm way of leading the workshop. You presented yourself as 'one of us'. You made us work ... you listened, reacted and then came up with your story ... my compliments for that!
Ton Oomen, drummer/teacher Muziekpakhuis Amsterdam, The Netherlands
The feedback from the students was very enthusiastic and positive.
Leon Lhoest, Conservatory Antwerp, Belgium
There was only positive feedback from the students.
Prof. Werner Neumann, Hochschule für Musik und Theater Leipzig, Germany
Thanks again for the fantastic workshop yesterday. It really helped me a lot!
Theresia Philipp, saxophone player, Cologne
Thanks for the workshop, the students were very enthusiastic
Magnus Nilson, project manager conservatory Utrecht, The Netherlands